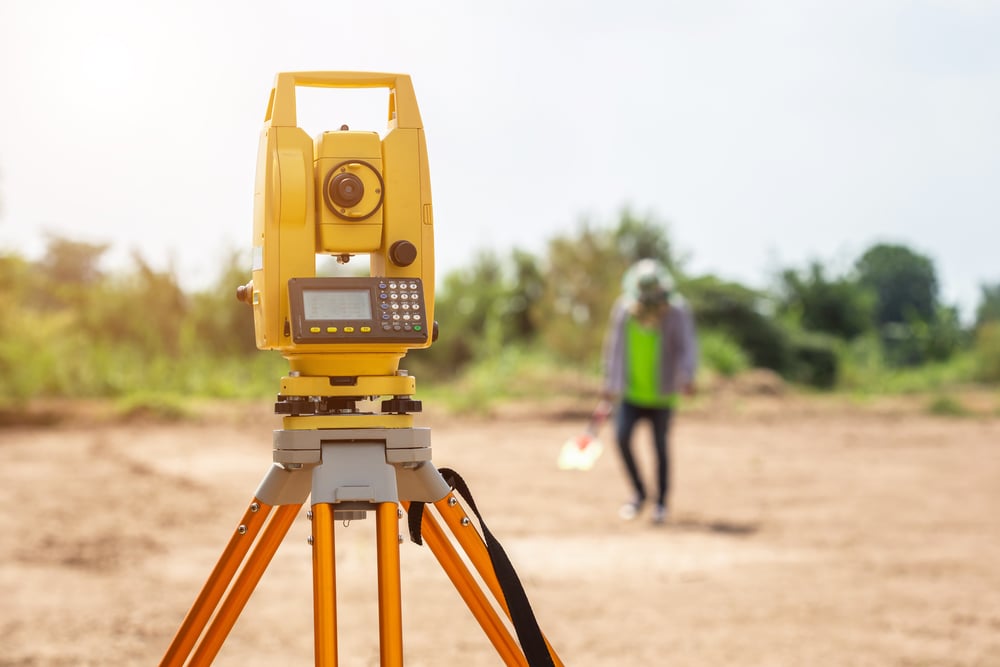 Land surveying has been around as long as the idea of land ownership. Longer if you want to include the boundaries set by tribes of ancient humans. By now, the industry has it down to a science, and several types of surveys have been spawned over the years for specific needs and uses.
Here is a synopsis of the various types of surveys you may need to know as part of your job or for making investments.
Defining a Land Survey
Surveying is the measurement and mapping of the land, sky, and sea. Someone who surveys is called a surveyor, and a surveyor identifies, verifies, and documents the lines of boundary for properties.
A survey maps elevations, angles, boundaries, and natural and man-made features using geometry and other related mathematics and sciences.
Land surveyors work with sophisticated field equipment, make calculations, and take images to support the survey findings. They also use software solutions like AutoCAD to draft plans and map measurements. These days satellites play a prominent role in surveying land, creating a higher level of accuracy than before.
Surveyors reach different levels according to their years of experience and accreditation. A surveyor can be ranked as a student of surveying, an assistant, a technician, a graduate, and a registered surveyor.
Why Would You Need a Survey?
You need a survey for several reasons, topmost of which is you need to know where the boundaries of your property lie when you are buying, selling, or improving a patch of land. After all, very little new land is being created, so what you already have is a valuable commodity.
Types of Surveys
Mortgage surveys, also known as title surveys, are requested by title companies, banks, and mortgage lenders. They confirm there has been no trespassing by an adjacent property owner and that local zoning laws and building codes are met. They show that easements remain accessible and provide other data. Mortgage surveys locate every detail of a property, including the locations of the trees.
ALTA/ACSM surveys are typically used for commercial real estate, showing existing improvements on a site relative to its boundaries as you see them on the deed. They also show improvements, easements, rights-of-way, zoning classifications, waterfronts, and much more. ALTA/ACSM is a comprehensive, and therefore, a rather expensive survey. It can take from two weeks to several months to complete.
Boundary surveys involve field and record research. They are used to identify and confirm the corners and boundary lines of a parcel of land following state law. They may include easement lines and encroachments. They can be performed in a few hours depending on the size of the lot.
Construction surveys stake out features and structures like roads, utilities, walls, and buildings within a construction project. The survey stakes the slope, vertical and horizontal grading, and an As-built survey. The staking shows workers the directions for implementing improvements shown on the plans.
Location surveys are rather like boundary surveys but contain more information on interior improvements. Zoning permits and loan applications often require location surveys.
Site planning surveys combine boundary surveys and topographic surveys. They are used to design commercial and industrial sites, house lots, subdivisions, playgrounds, and stores, among other things. A site planning survey may be required for development permit applications before construction begins.
Subdivision surveys are what they sound like: surveys used to divide land into smaller lots, tracts, or estates. Subdivision surveys are required by local government agencies to plan streets, lots, and drainage. You may also hear it called a partition survey or platting. The trend for master-planned communities makes heavy use of subdivision surveys. Before construction begins, the planning commission or zoning board must review and approve the plat map.
Topographic surveys are performed by professional civil engineers. They locate topographic features such as utilities, roads, watercourses, ditches, embankments, and contours as well as other improvements such as fences or walls. They often utilize aerial photography as well as field methods of surveying. All natural and man-made features are located and detailed on the resulting map. This type of survey may be a requirement of local or state government agencies.
Topographic surveys are needed when adding a new structure onto a developed piece of land. It shows how the property will look after the new building is complete. It shows where the property may need to be leveled, and help plot the surface for work visualization and planning in three dimensions.
Other types of surveys include engineering surveys, mining surveys, hydrographic (bathymetric) surveys, and geodetic surveys.
Engineering surveys are used in building and civil construction, ensuring works are built according to the design plans.
Mining Surveys help plan, construct, and operate mines, open cut, or underground. It lays out drilling patterns, conveyors, and excavations as well as underground voids and roadways. These surveys also monitor ground movement.
Hydrographic surveying takes measurements beneath the surface of oceans, harbors, rivers, and their shores. They are used to develop waterway charts for ships and boats to use in navigation. Hydrographic surveys use sonar to map the bottom of the waterbed.
Geodetic surveys take precision measurements to determine the exact size and shape of the world and track continental movement. They are used in measuring the rise of sea levels, tracking satellites, and monitoring earthquakes.
Surveys rely on mathematics and geometry, although today's tools have simplified the calculations. Software and improved hardware and measuring instrumentation have evolved over the course of decades. Some types of equipment used are theodolites, tilting prism systems, magnetic locators, cantilever columns, lasers, measuring tapes, and levels. GPS is developed using surveys and guides surveys.
Surveyors are expert consultants to investors, architects, engineers, developers, and builders. They are detail-oriented people who value precision and accuracy in their tools and their work. A survey document is a legal record, and the surveyor takes responsibility for its contents.
The type of survey needed depends on the use to which it will be placed. There's no need for an ALTA/ACSM survey if all you need to know is where the boundaries and corners are. The more involved the survey, the more it will cost. The size of the lot under survey also determines the cost and the length of time it will take to complete.
Land surveys are critical legal instruments in the real estate, mining, and navigation industries. If you are considering purchasing land, you always request a survey to show you what you are buying and if anything is encroaching on your potential property.