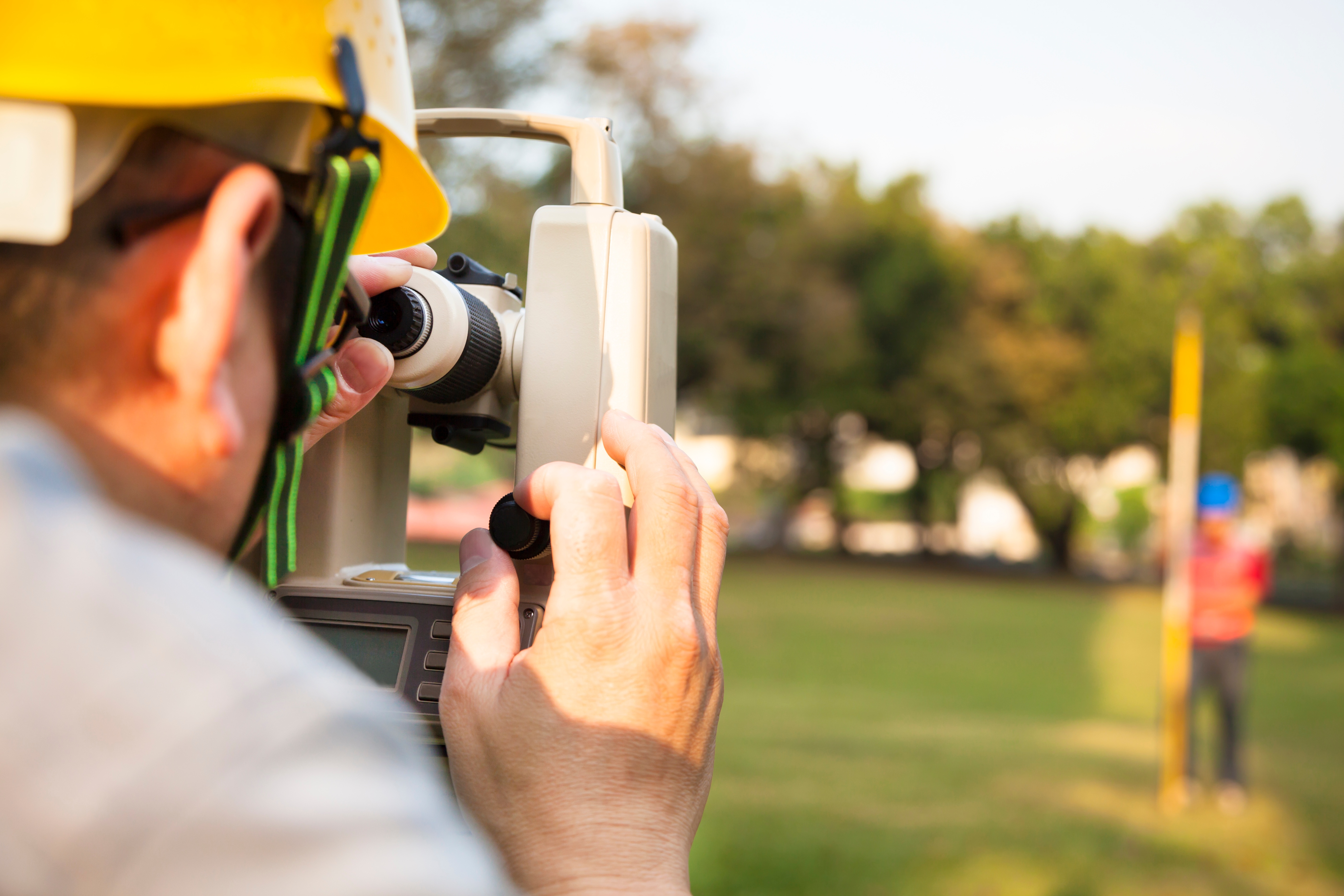 Land surveyors are much more than people who stand near the road with a tripod and a staff. They are precision measurement makers and can be legal arbiters of where boundary lines fall. A land surveyor has a range of expertise from mathematics to the law to high tech equipment and software.
What do they do with all that knowledge and equipment? Read on to find out what a land surveyor does, what you need to do to become one, and the environment in which they work.
What Is Surveying?
Surveying is the measurement and mapping of the land, sky, and sea. Surveyors work in all parts of the world from the polar ice caps to the deep urban jungle.
Surveyors identify, verify, and document the lines of the boundary for properties. Some surveyors are explorers, like Lewis and Clark, who recorded the new American West for President Thomas Jefferson, a skilled land surveyor himself.
Others work for developers, helping them to subdivide property into parcels. Anywhere people want to settle, build, farm or mine must be surveyed to ensure boundaries are correctly and fairly drawn to avoid trespass on another's property or going out of bounds and into protected land.
What Does a Land Surveyor Do?
A land surveyor performs the measurements required for building a map of an area. They may work in the field, in an office, or both, depending on the task they undertake.
Land surveyors work with sophisticated field equipment such as high order GPS, theodolites, and aerial or terrestrial scanners.
Surveyors make calculations and take images as supporting evidence.
They use software solutions such as auto-CAD to draft plans and map measurements.
Land surveyors work for more than just developers; they also survey for mining interests, tunnel building, and major construction. Not only do they measure the land, but they are also expert consultants for engineers, developers, and architects. Land surveyors must also keep up with changes in property law and communicate clearly with their clients.
There are different types of land surveyors.
Boundary or land surveyors identify legal property lines and determine the exact locations of real estate and construction projects.
Engineering or construction surveyors identify the precise location of roads and buildings or the appropriate depth for building foundations. They learn about changes in property lines and potential restrictions on the property. They may also survey the grade and topography of roads.
Forensic surveyors record accident scenes for potential landscape effects.
Geodetic surveyors use highly accurate imaging from aerial and satellite observations to measure large areas of the Earth.
Marine or hydrographic surveyors survey rivers, harbors, and other bodies of water to identify shorelines, the topography of the water body floor, depth, and other features.
Mine surveyors map the underground tunnels or survey surface mines to determine the volume of minerals mined.
According to Mark Mason, a land surveyor in British Columbia, Canada, a land surveyor must stand by his work for a lifetime. Setting and supporting boundaries is a legal issue. Surveyors update boundary lines and prepare construction sites to prevent legal disputes.
Work Environments and Skill Sets
A land surveyor can spend a great deal of time out of doors in all weather. Depending on the geographic region, the surveyor may be chipping ice, stomping through mud, or spending time inside a storage tank. Surveyors work all over the world in all different environments. Each land surveyor decides whether to specialize in one part of the country or go wherever the work takes him or her.
Surveyors are allowed in places where public access is restricted and may retrace the steps of a previous surveyor from decades before. They also need a variety of skills.
Communication skills are essential to provide clear instructions to team members, government officials, and clients. Surveyors also need to understand instructions and information from others such as architects and construction managers. They provide status updates to lawyers and developers.
Surveyors are detail-oriented Their work must be both precise and accurate, meaning the measurements they make must be repeatable within a margin of error and match benchmark measurements. Survey documents are considered legal documents that a surveyor must stand behind for a lifetime.
Physical stamina is important. Surveyors work outside in many types of terrain. They may walk long distances and stand for long periods.
Surveyors require top-notch problem-solving skills to resolve discrepancies between documents, fix equipment, or find ways to operate when the appropriate equipment or information is unavailable.
Time management is critical. A surveyor must be able to complete tasks and direct team members to complete projects, especially with tight deadlines or to make the most of the daylight.
Surveyors often have excellent visualization skills to be able to "see" how a new building or altered terrain will impact the surrounding area.
Land surveyors are multi-talented multi-taskers.
Becoming a Surveyor
According to the Bureau of Labor Statistics, the demand for surveyors is expected to grow by 11% between 2016 and 2026. There will always be a need to certify boundary lines, work on resource extraction, and review construction sites.
The best job opportunities will go to those who have specific specializations and a Bachelor's Degree from an accredited school. Most surveyors find work even when the economy is slow, or construction activity decreases.
The median annual wage in 2017 for a land surveyor ranged from around $60,000 annually for a surveyor attached to an architectural or engineering firm to $70,000 for government contractors.
In general, surveying requires earning a Bachelor's degree to show proficiency with technology and mathematics, plus four or more years of training and experience in the field working for a licensed surveyor to become licensed yourself. Acceptable degrees include specialized programs for land surveying or closely related studies such as civil engineering or forestry.
You may be able to become licensed with an associate's degree and the appropriate training. In certain states, you can substitute work experience and training for some educational attainment. A license is required in all 50 states and the District of Columbia to be eligible to certify legal documents showing property lines or determine proper construction markings.
A land surveyor can work in an array of locations, projects, and environments. A licensed surveyor can certify legal documents and consult with a variety of professionals from lawyers to construction managers. The field requires continuous education beyond a degree to keep up with changes in the law, technology, and techniques as are necessary for accurate and precise measurements.