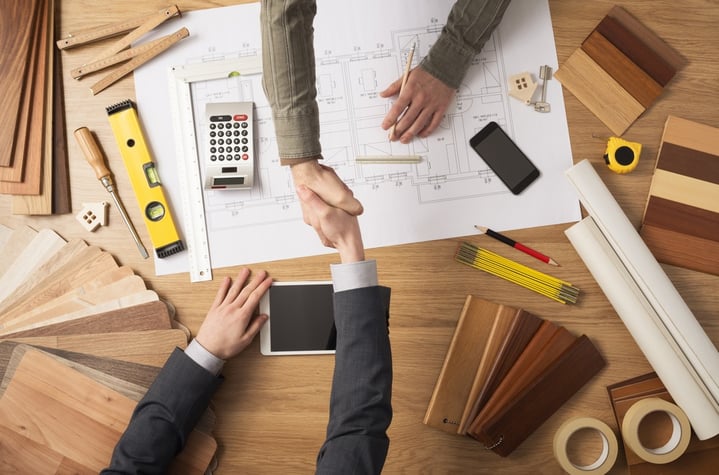 As a professional lender or title company, you may encounter ALTA (American Land Title Association) surveys. Entities use ALTA surveys to gather information required to issue property titles or mortgage insurance. Since an ALTA/NSPS land title survey can take weeks to complete and cost several thousand dollars, typically they are used for commercial properties. ALTA/NSPS land title surveys are deeply detailed, including important property information such as property lines, boundaries, real property, easements, encroachments, liens, and land ownership data. The goal of ALTA/NSPS land title surveys is to provide consistency and uniformity to the title industry.
Who Uses ALTA/NSPS Land Title Surveys?
The American Land Title Association worked with the National Society of Professional Surveyors and designed the survey to cater to lenders and title companies for commercial property developments. Most mortgage insurance lenders require title searches before financing the purchase of commercial real property. ALTA and boundary surveys are the most common types of title searches lenders will require before agreeing to a loan.
ALTA surveys are comprehensive and impose stricter requirements than ordinary land boundary surveys do. ALTA surveys show easements, rights-of-way, land ownership, hidden assets, parcel boundaries, and unrecorded liens. Certain companies must acquire ALTA surveys before they can begin work on a piece of land to ensure rightful ownership and right-of-way and avoid legal issues.
A person or company may need an ALTA survey before buying or financing real property when there is a need for highly specific information such as the location of buried sewer lines, locations of fences, and whether a building on a piece of land affects an easement. While a physical inspection or title search can give a lot of vital information about a property, sometimes an ALTA survey is the only document that provides the type of highly detailed information a company or individual needs to complete a property purchase or begin work.
What Does an ALTA/NSPS Land Title Survey Involve?
An ALTA survey is the gold standard for all land surveys. ALTA surveys ensure land and title professionals adhere to national standards as dictated by the American Land Title Association and National Society of Professional Surveyors. For a property map to be drawn according to ALTA standards, it must have data such as:
Boundary lines

Location of main building

Locations of auxiliary buildings

Unrecorded improvements

Identification of easements
These surveys also show encroachments of any buildings on a property over boundary lines or onto any easements. Encroachments could interfere with a property owner's ability to use a property's improvements, such as single-story commercial buildings. There may be the need to remove the encroachment. Encroachments may also signal the potential for litigation concerning the boundaries of a property.
How Does One Create an ALTA Survey?
First, a surveyor measures the exact boundaries of the property with a digital or laser-measuring tool. The surveyor will then use these measurements to create a description of the boundaries of a tract of land, comparing the measurements to the property's existing legal description (provided by the title company). If there are any discrepancies between the two reports, the surveyor will indicate them. A surveyor's detailed notes on ALTA surveys dictate the legal description of a property. The surveyor will then prepare a survey that correlates with the needs of ALTA, the lender, and the title insurer.
ALTA surveys leave virtually no property issues unaddressed. They are complete, thorough, and detailed surveys that give title insurance companies and surveyors all the information they need to complete their jobs. Surveyors use CourthouseDirect.com's online public records search tool to obtain detailed information about a property during ALTA surveys. Online public records searches enable title insurance companies, lenders, and other entities to gather the data they need to fill out accurate and in-depth ALTA surveys that abide by stringent industry standards. With a comprehensive ALTA survey, a land purchaser will have the documentation he or she needs to obtain funding for a commercial property.