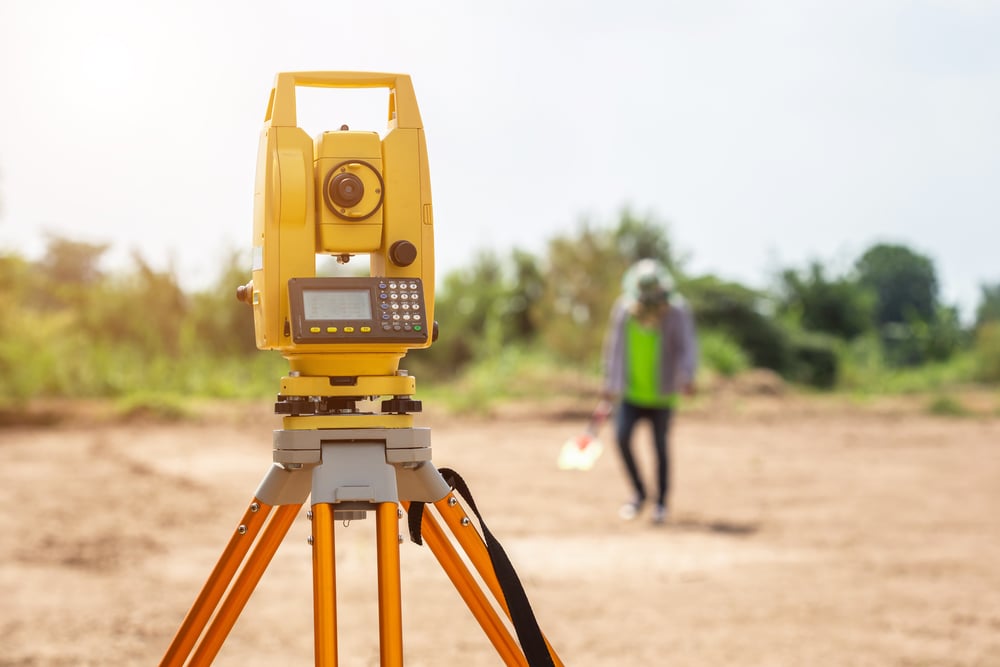 As long as there are property owners, there will be a need for surveyors. The practice of surveying goes back centuries and was a vocation for several of the founders of the country. While there isn't much exploring going on anymore as in Lewis and Clark's time, surveyors can find work in multiple areas, and the field continues to grow its technological footprint.
That being so, the career options in the surveying field also continue to expand as surveyors bring many old and new tools to the field of property ownership, development, and exploration.
What Does a Surveyor Do?
A land surveyor accurately estimates, measures, and divides parcels of land using geography, mathematics, and topography. You use advanced tools and equipment to establish borders and visualize territory.
You can work out in the field or in an office setting, although most surveyors do some of both. You learn about property law and consult for a wide array of professionals, including engineers, developers, and architects. One of the best skills to cultivate is communications because you will be speaking to many people in different areas and with varying interests in your activities and results.
Like many fields, surveyors can specialize in a particular industry or type of surveying as well as move up a ladder of professional certification, education, and experience. The Kentucky Technical and Community College offers educational certifications for Surveying Technician 1, 2, and 3, and another position is labeled surveying and mapping technologist. Surveyors can have a variety of backgrounds and educational levels as well. In some states, if you want to become licensed, you may need at least a bachelor's degree from an accredited college or university.
Due to improvements in technology, people who used to be surveyors, surveying engineers, and land surveyors have become data specialists, spatial data managers, and geodata managers, respectively. In this field you leverage enormous data sets, use cloud-based and SaaS (Software as a Service) solutions along with tools such as GPS, UAVs, mass data technology, drones, building information management (BIM), and augmented or virtual reality.
Types of Surveyors
The types of surveyors can change in name depending on the country. For example, in Great Britain, the position of quantity surveyor is prominent. This individual is knowledgeable about construction costs and contracts. British surveyors may also be work as party wall surveyors to locate neighborhood boundaries, valuation surveyors, or building surveyors who advise on management and repairs.
In the United States, you can become a construction surveyor, a boundary surveyor, a forensic surveyor, or a hydrographic surveyor among other positions.
Alone with a variety of specialties in surveying, there are also different types of surveys, from ALTA/ACSM and boundary surveys to topographic, marine, and site panning surveys. The possibilities are endless.
Industries and Areas Requiring Surveyors

Construction and Development Surveyors
One industry probably stands out in your mind that needs surveyors - construction and development. Construction surveyors are the most common positions in the surveying world.
Developers purchase large parcels of land and, before they can create a design, they need to know where the property boundaries lie, the shape of topographic features and elevations, and need someone to help divide the parcel into smaller sections. When it comes to grading, the survey guides both horizontal and vertical grade work.
If the land already contains buildings, the construction surveyor measures and identifies the location of the buildings as well as any features or roads within or near the property. A surveyor is responsible for checking easement boundaries, pipeline placement, and helping to create access roads.
Boundary Surveyors
A boundary surveyor uses technology and special locators to determine exact property boundaries. Topographical measurements are not generally part of the practice. Boundary surveyors often work in construction or real estate planning as well as assist with enforcing state and local property laws. Of course, a boundary surveyor will probably settle a share of land disputes, too.
Hydrographic Surveyors
A highly specialized form of surveying, hydrographics involves the measurement and analysis of bodies of water, including harbors, lakes, and rivers. The boundaries in these cases are called shorelines.
Hydrography is sometimes called by the more general name of topography to include the fact that the survey measures water depth, floor formations, and other features below the water.
While hydrographic surveyors work with bodies of water, their responsibilities overlap with marine surveyors. Marine construction surveying supports construction interests in the seas and oceans such as oil drilling and sea travel.
Forensic Surveyor
A forensic surveyor records accident scenes for potential landscape effects. Working with the legal, insurance, and government agencies, this type of surveyor help reconstruct crime or accident scenes. Also, surveying is necessary in cases of storm damage and for evaluation of environmental factors.
Geodetic Surveyor
Geodetic surveyors utilize the information gleaned from the global positioning system (GPS) and other satellite observations as well as aerial images to measure large areas of the globe. These types of surveyors measure the movement of continents while monitoring their shape and size. Their work is invaluable for tracking sea-level rise and earthquakes.
Looking in the other direction, geodetic surveyors also help track satellites. Other areas include developing coordinate systems and datums used in producing maps and plans.
Topographic Surveyor
Like a hydrographic surveyor, a topographic surveyor measures the height and location of land features but for dry land rather than underwater.
Topographical surveys often show land contouring and locations of physical features from trees to pre-existing construction. The information is used to design roads, buildings, extensions, and other infrastructure.
Mine Surveyor
Surveyors work on underground measurement as well. They map underground tunnels as well as survey surface mines to determine the volume of minerals mined. A mine surveyor may measure and monitor the changes in the landscape due to mining and may reveal features that hint at changes in mining conditions.
Deformation Surveyor
Land moves, even if infinitesimally. In some areas of the world, it's essential to monitor the movement of the earth and the buildings or objects resting on it. The rate and volume of movement can trigger the need for shoring up a building or the need for future renovation.
Surveying is far from becoming a dying art. In fact, it's thriving as new technology provides the ability to make ever more accurate measurements, store and share reams of data, and develop stable construction and infrastructure.
The career options in the surveying field span a wide variety of industries. If you are thinking of becoming a surveyor, the world may be your oyster.