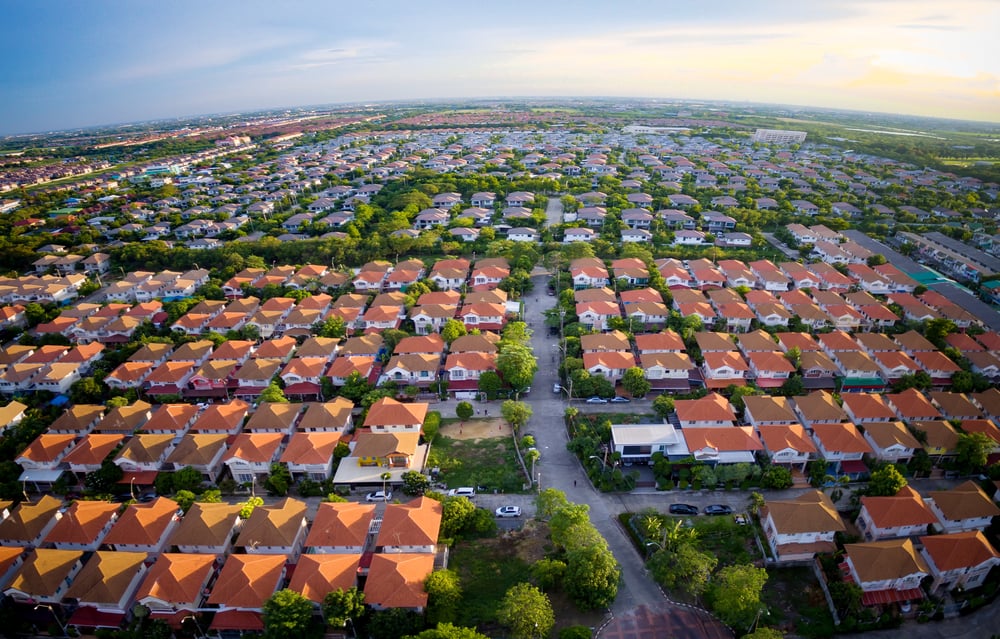 Texas has a long history of respect for private property rights. It provides owners of residential and commercial property the tools needed to be prosperous and safe.
The guarantee of personal property rights is provided by a complex yet easy-to-understand set of laws and regulations that are typically called platting laws.
This post intends to introduce you to a brief overview of platting and a few state, county, and city platting laws in Texas.
Platting Overview
A plat is a piece of land identifying the location and boundaries of street rights-of-way, individual lots or parcels, and other information about the size and shape of a property. A plat looks like a two-dimensional representation of a specific lot of land that includes improvements, boundary lines, flood zones, and other details.
In most places in the US, a plat is required if you subdivide land into lots for public access like parks or to build homes. If you have ever purchased a home, you probably received a plat map along with your other documentation. The plat is part of the title search and insurance requirements. It contains a parcel number assigned by the county assessor's office.
A plat records not only the size, boundaries, and flood zones, but it also includes nearby streets, utility setbacks, ownership, and land dedicated to public use.
Not all property is platted. In very old deeds where the land has not been subdivided or platted, you will see the shape and size labeled as metes and bounds.
State Law
The Texas Local Government Code, more specifically "Local Government Code Title 7, Regulation of Land Use, Structures, Businesses, and Related Activities: Subtitle A. Municipal Regulatory Authority: Chapter 212 Municipal Regulation of Subdivisions and Property Development: Subchapter A. Regulation of Subdivisions" governs platting laws for the state.
This law goes on for 905 Sections.
A couple that may be of interest are as follows:
Section 212.004 - Plat Required
Section 212.013 - Vacating Plat
Section 212.015 - Replat
Section 212.016 - Amending Plat
According to Section 212.004, a plat is required by the State of Texas if you own a tract of land within the limits of a municipality and wish to subdivide your tract for building, laying out streets, and other purposes. The actual subsection goes into a great deal of detail. It includes lots of definitions and explanations of what you might be using the land for.
Pretty much, if you own a tract of land within any city limits, and you want to split it up, you probably need a plat.
Vacating a plat, Section 212.013, is kind of like un-platting. You vacate a plat by signing and acknowledging and "instrument declaring the plat vacated." At least, as long as none of the lots within the tract have been sold. If a lot has been sold, you will need to get the agreement of the lot owners.
Once the vacating document or "instrument" is filed, the county clerk marks the plat with the word "vacated" and makes all appropriate references. Once that's done, the lot is no longer considered platted. You may want to vacate a plat if you bought land, subdivided it, then decided you didn't want it subdivided anymore, perhaps to sell it or do something else with it.
Replatting may be necessary if part of the platted parcel has certain changes made to it or if the plat had been vacated previously. If it turns out that the plat map of a parcel is incorrect or specific other changes are made to the parcel, you may need to amend the plat.
City Level Platting Laws
In general, an entity within the state must comply with the state law. Still, it can create more stringent rules for use within its borders or develop regulations to help county and city landowners comply with state law.
One example of a city-level regulation for platting is one from Fort Worth, TX. It shows that the entities with authority over most platting activity are the Developmental Services Department and the City Plan Commission.
Fort Worth has an array of types of plats with requirements for each. For example, you need a Concept Plan when you have a preliminary plat that you intend to present to the department and commission in stages. In addition, the land area must be of contiguous parcels under the same ownership with control over more than a square mile (640 acres).
A minor plat in Fort Worth is permitted if you have four or fewer lots that haven't been platted and recorded before. However, the lots must have access to and front or abut an existing public street as well as meet lot size requirements of the zoning district.
If you want to transfer ownership of a platted parcel, use a conveyance plat to record the transfer of ownership. You don't need construction or design of public improvements, and you don't need to collect or pay development fees.
County-Level Platting Laws
Suppose you own a tract of land outside the corporate limits of a city, and you want to divide it in any way that makes two or more lots of five acres or less, and you expect to build homes on it. In that case, you need a plat according to the Model Subdivision Rules 31 TAC 364.15.
Further Considerations of Platting
Before you plat your subdivided land, you need to be sure the plat complies with zoning laws. Your plat cannot be registered as a multi-family subdivision if the area is zoned for single-family homes only. You may require a zoning change before you can move ahead with your plans. The same applies if you purchased land zoned as agricultural, and now you want to build apartments.
If you are a land purchaser, don't rely on the plat to tell you the property's boundaries. Plats aren't always accurate. Before buying the land, have a professional survey performed and matched to the plat map, so you don't buy a plot that is smaller than you thought. You might be able to use any discrepancies as leverage in a real estate deal.
Texans love their land, and each one wants to know every inch of his or her plot of it. Platting laws ensure the owner and the state have an accurate map of the size and shape of the property, any improvements, and where the easements and rights of way are located.