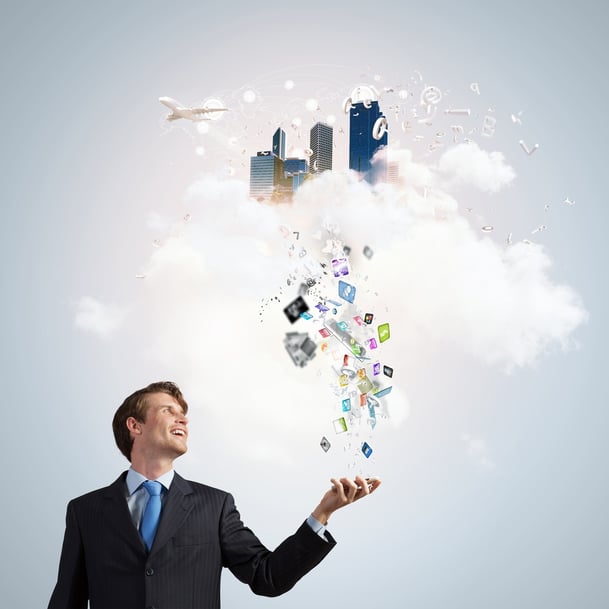 Technological advancements have completely transformed the real estate industry. Realtors no longer have to depend on the Yellow Pages and local listings in the paper to do their jobs. They can use the vast digital landscape available to them through the internet. With the development of web apps, realtors can progress even further. New listing notifications, organization, productivity – there's an app for that. Here are 10 must-download apps for modern-day realtors.
1. Matterport (Virtual Reality Property Tours)
Virtual reality (VR) is the future of real estate. VR can immerse potential buyers in hyper-realistic, three-dimensional tours of available homes. There's no need to leave the office, plan around other realtors' schedules, or spend an entire day hopping from home to home. Interested parties can enjoy VR property tours of hundreds of homes in a short period of time. Matterport is an app that makes a 3D home-touring experience possible at affordable prices for realtors. This app not only enables VR tours – it also offers insider tips, professional counseling, and assistance with listing presentations. It can give you an edge in your market and make you the realtor of choice in the neighborhood.
2. Showing Suite (Property Showings)
Showing Suite is an app that realtors can use to create showing schedules, gather buyer feedback, automate tedious tasks, get price reductions, and sell more homes. Showing Suite is great for both realtors and their clients. It combines multiple tasks in one, eliminating the need to download and use multiple apps. Real estate agents can give real-time feedback after showing listings, and buyers can streamline the home search process by creating and sharing documents, photos, and videos. With a wealth of real-estate specific features, Showing Suite could be the only app you need to boost business.
3. Premier Agent (Attracting New Leads)
Zillow and Trulia are two of the leading web companies in the modern real estate industry. Premier Agent combines these enormous platforms to give realtors the opportunity to connect with millions of buyers around the world. Realtors can use this app to manage business from anywhere. It easily keeps track of leads with contact details from Zillow and Trulia automatically listed. You can add enticing video walkthroughs of properties for free, manage the performance of your team, increase response rate, and so much more. Premier Agent is an excellent all-around app, with a focus on lead generation.
4. Slack (Closing Sales)
Slack, in a nutshell, is an instant messaging app. Its full capacity extends much deeper than just IMing, however. Slack is a comprehensive communication system that enables realtors to conduct remote meetings, easily share ideas, and host productive business discussions from anywhere. Slack has dozens of features to help realtors improve communication and close more sales. Converse with clients in a completely safe, private online environment where you can discuss the deal in detail. You can share documents, receive immediate input from others in the conversation, and archive conversations for future use.
5. Pages (Facebook Management)
Social media is an incredible resource for modern marketers and real estate agents. You can use platforms like Facebook to advertise your available properties, post engaging blog content, and increase your website traffic. The Pages app for Facebook can work wonders on your Facebook presence. It provides one user-friendly dashboard to manage everything you could possibly need on this social media platform. Schedule posts to publish at certain dates and times, keep up with activity on multiple pages at once, and connect with your target audience with simple commands within the app. Pages can also sync with Instagram and other social accounts for all-in-one task management.
6. Contactually (Customer Relationship Management)
This app allows realtors to quickly establish, grow, and nurture customer relationships to drive business. It generates referral opportunities, places you in touch with high-value contacts, and helps realtors engage in an intriguing, authentic way. Contactually makes it easy to discover new clients and opportunities. The app sends helpful notifications and reminders to follow up with clients and leads. Contactually can link up with your business email to automatically create a relationship database. From there, you can organize and build your contacts, start conversations, and stay on top of budding relationships that will help your business grow.
7. OmniFocus (Schedule and Task Management)
The OmniFocus app is the only one you'll need for task management and organization as a busy realtor. It allows you to prioritize your tasks, see your work in a number of perspectives, stay on top of project goals, and never forget another commitment again. Sync OmniFocus with your iPhone, Apple Watch, and Mac for a cohesive organization method across all devices. This app will help you work faster and more efficiently, saving you time and ultimately money with exceptional task management.
8. Placester (Website Building)
Placester is a digital marketing app built specifically for real estate professionals. It helps realtors design and manage top-tier websites, promote their brands, manage client relationships, and expand business into new sectors. It's a simple and convenient app that helps realtors showcase their IDX websites, take advantage of new business opportunities, and provide outstanding experiences to clients. There's no need to hire a website designer, brand marketer, or management team with this handy all-in-one app.
9. DocuSign (Document Signing and Management)
DocuSign is one of the most popular apps and websites for signing documents and contracts in any industry. For realtors, DocuSign is invaluable for sending, signing, and managing documents for clients around the world. Accelerate the sales process and master digital transaction management with help from this easy-to-use app. It is a highly trustworthy electronic signature app that over 250,000 companies use worldwide. Realtors can close deals, and get the signatures they need to move forward immediately, thanks to DocuSign. The app also helps realtors keep track of previous transactions, contracts, and workflows.
10. Online Public Records (Wealth of Property Information)
While not exactly a realty app, an online source of information that can be vital to modern realtors is an online courthouse record database. Online public record searches are faster and often cheaper than visiting your local county clerk's office and doing things the old-fashioned way. Realtors can obtain critical facts about a property, such as liens, property tax reports, title history, sales comparable, and much more through a single comprehensive search. Online courthouse records are great sources of fast, accurate, and cost-effective property information.
Revolutionize Your Practice Today
The right app can revolutionize a realtor's day-to-day life and long-term professional success. Whether you need to take the guesswork out of the local real estate market or draw up contracts at the press of a button, these apps can deliver. Try these 10 enticing options next time you want to optimize some aspect of your work.