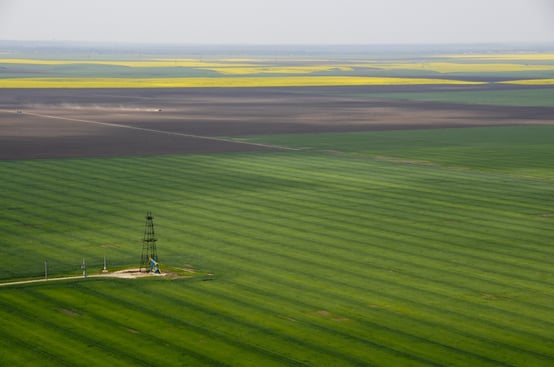 The first step in the process of bringing a tract of land from prospect to oil sales is the lease check. A lease check is a quick way of ensuring there are no obstacles to signing a lease on a tract, including problems with title and the existence of active leases on the tract or nearby.
Opening a well is an expensive activity. It wouldn't do for any E&P company to sink too many resources into a parcel only to find out it isn't viable.
An oil and gas lease check is, at its heart, a property title search, which can be completed in just a few hours at the county courthouse or by using a handy online title plant with easy search options.
Steps in Bringing Land from Prospect to Mineral Sales
As we said, the lease check is just the first step in moving towards drilling a parcel of land. Once the lease check is complete, and assuming it comes out clear, signing a lease requires some lengthy documentation.
Lease check
Mineral ownership report
Drillsite runsheet
Drillsite title opinion
Title curative
Division order title opinion
Many of these documents require the work of an attorney and can take time to complete. Performing a lease check provides fast proof that starting this lengthy process is worth it.
Potential Obstructions to Drilling
A few of the obstructions or encumbrances to drilling include:
A new oil or gas lease on the property
The inclusion of the tract in a pooled unit
An existing oil or gas lease in its primary term
You may need to broaden your search parameters to include nearby tracts of land to ensure an older lease is not still help by production on an existing well on the property or being pooled with a neighboring tract.
Land ownership difficulties could also delay or encumber a parcel. If the title isn't clear, then signing a lease is also problematic. Potential issues include:
Liens on the property
Issues of bankruptcy
Clouded titles and deeds
In the past, researching a title took some legwork and travel. Now, most of the work can be done online.
Researching Titles and Deeds Online
For any title or deed research, you need a property address, the name of the owner, past or present, and a date range for narrowing your search. If you happen to know the parcel identification number, you can pull up the property immediately. The PIN is a unique identifier for a tract of land that should bring up only the tract of interest.
Deeds are legal documents used for the transfer of title from one party to another. A lease check may include putting together a cursory chain of title, so you don't run into surprises. For example, Uncle Elmer may have transferred a share of the property to a distant cousin without doing the proper paperwork. The distant cousin may feel he or she has a claim on any minerals found or exploited on the property. Delays ensue while the case drags through court, wasting the E&P company's time and money.
Records Included in a Lease Check
A lease check can be seen as a cursory title mineral ownership report, an abbreviated version of a detailed report used later in the process.
A lease check includes the existence of oil, gas, or other mineral leases. Lease ratifications, memorandum of leases, and royalty deeds are all documents that tell part of the story on a parcel of land.
Surface use agreements are also essential parts of a lease check. While the subsurface rights may be split from the surface rights, part of any drilling lease includes the use of the surface for drilling and transportation activities.
Pooling agreements include multiple parcels that all act as a unit when exploited. If a parcel is part of a pooled unit, it is treated as if a lease exists. Drilling a pooled unit is the same as drilling a single unit under a lease.
When performing a lease check, look for unit designations as well as pooling agreements, to find clues to the actual state of the tract.
Accessing Records
Land record access is simple enough. You go to the county courthouse (in the county where the property is located). Land records are public records; anyone can search them. However, a manual search potentially means handling dusty old ledgers and the possibility that someone else has the file you need.
While you are waiting for your turn, you also run the risk of the competition attempting to learn about the same parcel you are after or simply spying on your activity.
Many courthouses have digitized most of the newer records. You can search them from a terminal at the land office, or you may be able to access it from home. The ease of the search depends on the sophistication of the database and search function developed for each county.
Alternatively, you can smooth your way into title and deed records through the tools offered by CourthouseDirect.com.
With CourthouseDirect.com, you have access to records from every county in Texas. We provide a full range of documents.
Oil and gas leases
Mineral deeds
Ratifications
Memorandum of leases
Royalty deeds
Surface use agreements
Pooling agreements
Unit designations
Every record you need is available in a single tool. You can search by survey name, abstract number, or party name and find all related documents immediately. Within a few hours, you can hand off your lease check to your geologist.
Oil and gas are lucrative minerals that can bring in hefty royalties to mineral owners and make a lot of money for the company that drills and sells the production. Setting up operations to drill and transport oil and gas costs a fair amount upfront. The company wants to know it will recoup its investment.
As a landman, you can provide the necessary information that tells your company whether the prospect it has in mind is available for drilling in the first place. By performing a lease check that takes just a few hours of your time, you can prevent your company from wasting resources on a parcel already in production or that has a problematic title.
On the other hand, you can hand them the excellent news that the lease check is clear, and you can take the next steps towards tying up a lease.