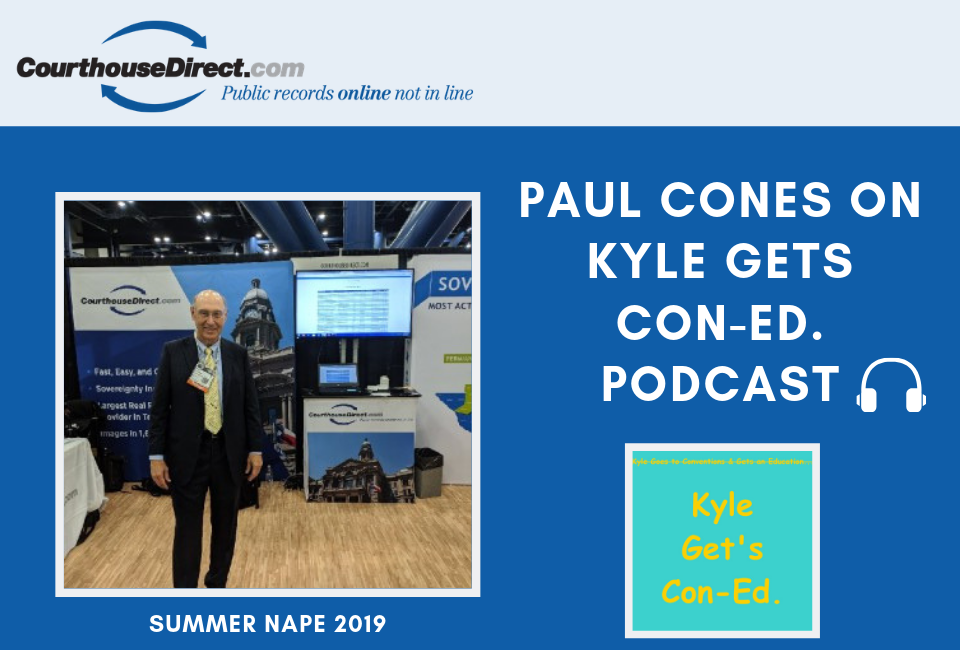 Summer NAPE 2019 last month was a success! We ran into a number of familiar faces, met a lot of new ones, and even gave away an autographed Alex Bregman jersey to a lucky winner! Every year, we look forward to attending NAPE conferences in our hometown of Houston. We love sharing the time and money saving benefits that CourthouseDirect.com brings to landmen and oil and gas companies.
This year, Kyle Souza, host of the podcast show, Kyle Gets Con-Ed., interviewed our president, Paul Cones. On this episode, Paul talks about searching for documents, title plants, GIS functions, and how Landmen can benefit from CourthouseDirect.com.
Listen to the audio or read the transcript below:
Listen to "Summer NAPE 2019: Courthouse Direct" on Spreaker.
Kyle: Kyle Souza with P&P Oil & Gas Solutions at Summer NAPE 2019. I'm here at the CourthouseDirect.com booth with Paul Cones. Paul, how's today going?
Paul: Oh, it's going great. We've been talking to some good folks here and educating landmen about all the resources we have and hopefully making their life easier.
Kyle: So what resources do you have at CourthouseDirect?
Paul: Well, we're data aggregators. So we go into counties, and we scan all the records in the county. So we'll go in and scan the handwritten grantor-grantee indexes, all the deed records back to sovereignty, all the oil and gas records all the way back. And what we do is take that data and then we organize it in a way so that the landman can either search it by grantor-grantee or search using our title plan facilitate.
Kyle: Okay, I've seen a lot of emails and talk online on social media, LinkedIn and such about the title plant facility, you mind going into just a little bit more detail about that?
Paul: Right. So for instance, Reeves County. We built the title plant in Reeves County, and of course as a landman, when you go into a county and you want to use the title plants, you sign in and spend the day there and sign out when you leave. And so essentially, what we've done is built these geographic searchable databases and counties, mainly Permian Basin, but we actually have over 90 counties in Texas, and 12 counties in New Mexico. So you're able to go in and put in your legal description, back that up with a grantor-grantee search, pull down all the documents you need, save that to a run sheet on an Excel spreadsheet, and then you're able to essentially, run your title without having set foot in the courthouse.
Kyle: That sounds like a great tool for a landman. And if people are here at NAPE, they should definitely come by your booth. But if they're not at NAPE, how should they get in contact with you?
Paul: Well, you can visit our website, which is courthousedirect.com, and you can certainly email us at information@courthousedirect.com, we're more than happy to answer any questions there. But if you go to courthousedirect.com, you'll see a button on the bottom of the page that says YouTube. If you click on that, we've got a lot of good YouTube videos that show you how to use the website. We also have a new feature we rolled out, I might've mentioned it to you, which is our title plants by the hour. So essentially the landman could sign into the title plant, immediately you receive an invoice so you can charge that back to your customer and while you're in the title plant, you actually can view all your documents at no charge. So it allows you to go in for an hour of time, be able to download a run sheet, look at all the documents that you may or may not need, pull the ones that you do need, so it allows you to be very productive.
Can I mention one other thing to you Kyle? We have a tool that I want every landman to know about, and this is our LeaseAlert tool. If you look at the tabs across the top of CourthouseDirect.com, click on the alert button. And when you click on the alert button, you can sign up for our LeaseAlerts. So when there's new documents that are filed in the courthouse, not only oil and gas leases, we're talking about assignments, mineral deeds, royalty dates, when those things are filed in the courthouse, you'll get an alert that says there are new filings that were done last week or the week before. So let's say for instance, you're doing title research on Mr. Jones and Henderson County. And all of a sudden you get an email alert that says Mr. Jones just leased his land. Well, guess what, you can stop searching there. So, that's one way to use that tool. But just to know what's going on in the industry. If you say 300 leases filed in Anderson County last week, that's going to be important to you, you want to know that. So sign up on every county, you get maybe two or three emails a week, but it's a great way to keep up with what's going on in the industry.
Kyle: Yeah, it sounds like there's a lot of productivity functionality in the website and in the program to help the landmen be as economic and as functional as possible.
Paul: Yeah, and I haven't mentioned our GIS platform, which allows you to drill down to accounting and what we've done is we've overlaid the tax information onto the pipeline information onto the well information all on a Google map. So essentially, you're drilling down to an area and it's like everything there that you need. So it's kind of a one-stop shop, is the way we look at it. So, we have current databases that you can search. Also, those records that we're scanning and the counties, we put those on what we call our FileViewer. So if you want to look at any of those older records, you can go there or if you want to just look at the map and get started, you can do that there. All the resources are there. Sometimes people may not know where to click and we're always available. Just email us at information@courthousedirect.com or just call us at 713-683-4000 and we'll take care of you.
Kyle: Awesome. Well thank you very much, Mr. Cones. This has been Kyle Souza from P&P Oil & Gas Solutions at the CourthouseDirect.com booth at Summer NAPE 2019.