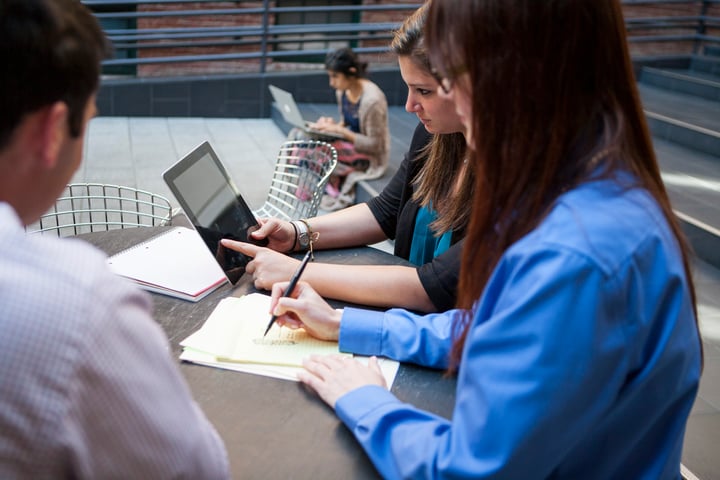 Lawyers use public records extensively to gather evidence, conduct background research, and support their cases overall. From filing pleadings to in-depth investigative research, lawyers take advantage of public records to better serve their clients. Knowing how to use public records to your greatest advantage can help you further your career and gain notoriety as an expert attorney in your area.
Gather Background History on Potential Clients
Public records give attorneys access to comprehensive historical data about prospective clients before agreeing to take on their cases. Entering the names of prospective clients into an online database can tell you the types of lawsuits they've been involved in, whether a lawyer has sued them for lawyers' fees, and if the clients have ever declared bankruptcies. You can also discover if the client is litigious or prone to lawsuits and if he or she is currently involved in a lawsuit.
If you find the client has filed a lawyer malpractice lawsuit, for example, you can use this information to help you decide whether or not you want to work with said client. Or you can express that you will provide better legal services than the previous lawyer, placing yourself a notch above competition. Gathering as much information as you can about clients before agreeing to represent them allows you to be a better lawyer and helps you make informed decisions about your career.
Research Judges, Attorneys, and Key Witnesses
Lawyers also use public records to vet judges and defendants' attorneys. You can learn about the types of cases a judge usually hears, how he or she ruled in the past on similar cases, and gain access to summaries for judgment motions. This information can make or break a case. It gives you an inside view as to how a certain judge most likely thinks about your case before ever entering the courtroom. Public records include motions for new trials and how the judge typically rules on specific matters, giving you a better chance of success during litigation.
Entering an attorney's name into a public records database can show results such as the types of cases he or she typically handles, the parties he or she represents most often, and the size of the attorney's caseload. This information helps you get a feel for your opposing party's strategy, resources, and chances of success. Researching key witnesses gives you information like which side they testified on so you know what to expect when you go to court. The quality and amount of your background research speaks volumes to clients about your overall preparedness as an attorney.
Access the Best Estate Resources for Your Clients
If your area of expertise is in family or estate law, you need access to the proper documents and forms for your clients. These typically include real property documents and asset information. Your clients expect you to have all the information necessary for probate court and estate law, including who is the rightful owner of properties and who currently owns a property. The public records provide instant access to real property information, including marital status, lawsuits, voluntary and involuntary liens, and asset searches.
Master Client Development and Retention
Public records research answers important questions, such as whether it's time to shift your area of practice expertise to a more popular area or include a current hot topic. For example, if hundreds of people are suing a certain drug manufacturer for a dangerous drug, you'll find these cases filed on public record and can include them on your list of practice areas to gather more clientele. If you're looking for a partner to start your own law firm, use public records to see which lawyers handle hot practice areas and recruit them.
Learn Best Practices for Public Records Searches
Now that you know how to use public records to your greatest advantage, it's time to learn best practices for accessing public records. Today, the best tools for public record searching are online. Courthouse Direct, for example, offers a range of attorney tools, such as real property asset searches and document images, property tax information, deed and mortgage reports, and grantor/grantee indexes. Going into cases with extensive knowledge about the parties involved helps you make informed decisions to better assist your clients. Use online public records tools for the fastest and most efficient data searches for your practice.