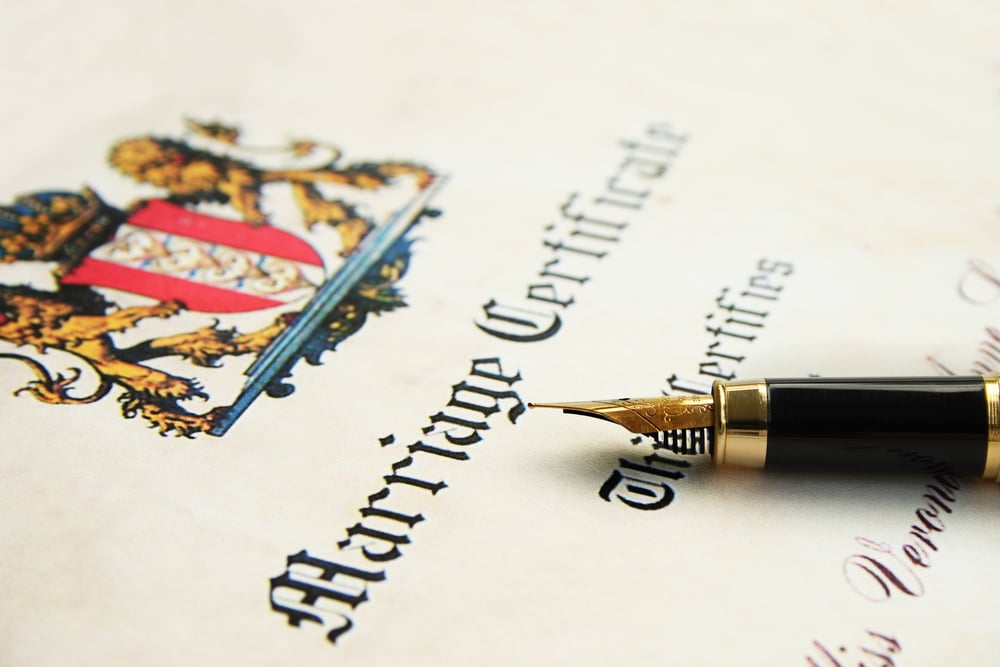 Searching marriage certificates is easier than ever with the introduction of online databases containing courthouse records. However, you may need to visit the courthouse yourself if you cannot find the records online. Not all records have been digitized.
People search for marriage certificates for a variety of reasons. They may be tracing genealogy, attempting to track someone with whom they have lost contact, or determining the validity of a union, among other reasons.
CourthouseDirect.com provides search for marriage and divorce records in electronic form, but we can be of assistance in unearthing clues to a physical record location. Before you begin, determine if the record you seek is public or confidential.
Public vs. Confidential Marriage Records
Marriage licenses can be public or confidential. Any member of the public can easily obtain an informational copy of a public marriage license. Certain individuals may obtain an authorized copy of a public marriage record. Confidential marriage records are sealed and may only be requested by the marriage partners or by court order.
Most marriage records are public. Only certain individuals can request and receive an authorized, certified copy of a public marriage record.
Someone who is party to the marriage or is the parent or legal guardian to a party to the marriage. In other words, a bride or groom, or the parent or legal guardian of a bride or groom.
A law enforcement agency officer or representative of another governmental agency who is conducting official business as provided by law.
A child, grandchild, sibling, spouse, or domestic partner of a party to the marriage.
An attorney representing one of the marriage parties or a party's estate, any individual or agency empowered by statute or appointed by a court to act on behalf of one of the parties to the marriage or the party's estate.
The person or agency seeking an authorized copy must present a Certificate of Identity to the County Clerk to receive it. Otherwise, anyone can request and receive a copy marked "Information, not a Valid Document To Establish Identity" imprinted upon it.
There are those who prefer to seal their marriage documents for a variety of reasons. These documents become confidential marriage records. The only person who may obtain a copy of the license is a party to the marriage or an individual or agency that has obtained a court order giving access to the sealed records.
The copy received by an authorized person of a sealed marriage record is an authorized, certified copy of a confidential marriage license. No other copies may be issued to anyone else, including informational certified copies.
Who Keeps Track of Marriage Certificates?
The Department of Health or the Bureau of Vital Statistics within each state keeps general data on all marriages and divorces within that state. You can contact the agency of the state in which the marriage took place to confirm the marriage occurred and to track down in which county the license was filed.
Each county has an Office of the County Clerk, typically found in the county courthouse. If you need to review the original copy of a marriage license, you will need to do a little traveling. Be aware, also, that if you want a physical copy of the record, you may be asked to pay a nominal fee and not all information will be provided with that copy, such as social security numbers.
Searching Online for Marriage Certificates
CourthouseDirect.com makes it easier to locate marriage licenses. Instead of calling the Bureau of Vital Statistics or Department of Health, you can search our database of marriage licenses as long as you have at least one piece of the following information:
Bride's name (first and last)
Groom's name (first and last)
County name
Date range for the wedding
A file number
For the best results in finding a specific license, you need as many pieces of information as possible and include middle initials if available. On the other hand, you can search by each individual's name, the county name, or a date range if you lack the other information.
The search engine will pull up all the records associated with the data you use. The list is in order of file number. Just browse the list to find the marriage license you need. The better the search criteria you use, the narrower your search will be. To limit long lists, fill in as many of the fields in the search box as possible.
Why You Should Start Your Search Online
Unless you know in which county the marriage took place, finding a marriage license by visiting the local courthouse is likely to be a waste of time. Each courthouse stores only those records pertaining to marriages that take place in that county.
If you are looking for a marriage license in the state of Texas, it could be in any one of 254 courthouses spread out nearly 269,000 square miles. Even if you have a broad idea of the area where the marriage was performed, visiting more than one county courthouse to review paper documents means substantial travel.
Add the time for travel to the time spent searching the records and you may be looking at spending an entire week on the road and only view the information in three or four counties.
Starting your search online with CourthouseDirect.com provides flexibility without the need to leave your home or office.
Go to CourthouseDirect.com.
Click or mouse over the Search Records tab at the top of the home page.
Select Texas Marriages.
Input the data you possess.
Select Search.
CourthouseDirect.com provides a list of marriage licenses meeting your search parameters. As long as the license has not been declared confidential by the parties involved, you can find a marriage record that contains the names and ages of the bride and groom, the date and county where the marriage took place, and the file number.
Once you have a file number and a county, you can contact the correct courthouse by phone, fax, or email to learn how to obtain a copy of the record or learn the hours of operation when you can drop by.
Using online search for marriage licenses is flexible and convenient. Even if you need a copy of your own license, learning the file number assists the County Clerk's office in locating the document.
Visit CourthouseDirect.com today to start your search. If you have any questions, please feel free to contact us.