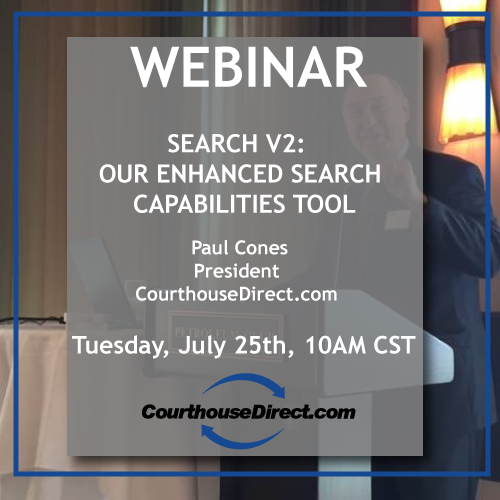 CourthouseDirect.com is always looking to expand and enhance the scope of online document research. That's why, we are thrilled to announce our new Search V2 Title Plant tool. Nothing is more valuable to researchers that a tool that can cast a wide net and quickly narrow down search results.
Join President, Paul Cones for a brief 30 minute webinar of helpful hints on using our new Search V2 Title Plant search engine Tuesday, July 25th @ 10:00 a.m.
Search V2 Enhancements include:
Unlimited Results on Integrity and Geo-Index – Advanced Title Plants

Search Results on CHD G/G & Legacy Plants increased to 5,000

Fast Searches even with Broad Parameters in Large Counties

Legacy and Advanced Plants Contain Same Search Logic

Animated Spinner Added for Search and Results

Display up to 500 Records per Page – Title Plant

No more Decade Breakdowns – Title Plant
Cones will be on hand after the presentation to answer any questions you may have about this powerful research tool.
Date: July 25th, 2017
Time: 10:00 a.m. CST
Cost: Free
Registration is limited, so sign up before it's too late!